Charleston, NC was selected as the destination for my annual Girls Getaway. This year the group expanded to include two of my daughter's girlfriends as well as newbies; Jean, Dana and Crystal. Previous destinations have been Amelia Island, Mackinaw Island and the Hamptons. This is a tradition that began with Shelly, my close friend from Houston.
These mini vacations are fun occasions where one can maintain and deepen bonds with the friends or family members one is traveling with. We return with shared memories and a promise to do it all again next year.
My friends and family let me handle all the details this year. Actually, they are all afraid to get in between me and the internet and a travel agent. This year, I found this helpful destination management company that assisted me in choosing a good sampling of everything Charleston has to offer. There are planned meals and activities as well as down time.
Men getaway too...guy trips are known as "MANCATIONS"!
Mancation is a word used to refer to a male-only vacation, or "when normal males engage in 'guy' activities that involve sports, camping, gambling, chasing women and most of all drinking amongst their all and only male friends. No wives, mistresses or girlfriends allowed. Done in order to get in touch with their male-primal roots.

I love that the women's sites show couples of girls with shopping bags in they're hands while the men's sites have babes in bikinis. When gay guys getaway, its a
gaycation
or
boyage
. Those outside the metrosexual crowd likely cringe at the
mancation
moniker. I don't see Doug jumping on his motorcycle for the weekend with buddies and calling it anything other that a "ride". (Outside rides, Doug likes the female gender too much too leave them behind). For those "normal males engaging in 'guy' activities", golfing is the most popular theme. Top hotel chain for mancations is the
Fairmont
. For example, The Fairmont's Sonoma Mission Inn & Spa offered "Speed Meets Spa", featuring a race car driving course
and
spa treatments.
Perhaps you will be lucky as I am to either plan or receive an invitation to getaway with those you love the most.
Resources for planning your own Girls Getaways:
Girls Weekend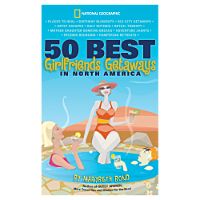 Resources for planning guy trips:
Forbes' Great Guy Getaways
Items to get the conversations going, available at amazon.com:
Highlights for the Charleston Girls Getaway
Charleston

Place
Pure Orient Express luxury "haven". We launched our weekend here at the
Thoroughbred Club
with cocktails and appetizers.
Located in the James Island marsh where you can sit on the deck and enjoy the sunset. Off the beaten path for Charleston tourists.